We remember-WWII
As Canada followed Britain's lead after Germany invaded Poland on September 1, 1939, Bell president, Charles Fleetford Sise, Jr. announced:  "Canada, along with Britain and the sister nations of the Empire is again at war...Everyone has a part to play."  The Bell team responded with decisive resolve—undertaking sometimes difficult professional and personal demands to confront wartime challenges.
In total, 2,543 Bell employees enlisted in the Canadian Armed Forces or were loaned for technical or other work. The majority of Bell team members who enlisted between September and December 1939 opted for the Royal Canadian Corps of Signals, since this type of military service required training in communications.

The Bell team's expertise, talent and dedication were all funnelled towards war effort. Women were trained to work in traditionally male dominated sectors, such as central office work, public telephone coin collecting and delivering of directories.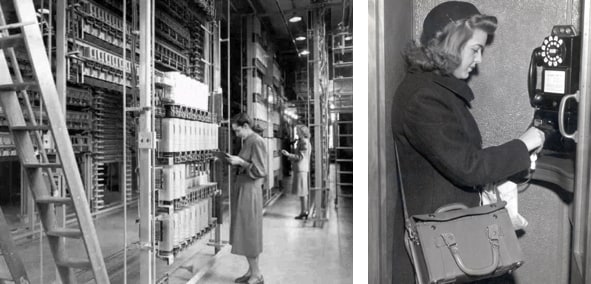 Members of the Auxiliary Aid Association of Telephone Employees packed Christmas parcels destined for employees on active service overseas. The Blue Bell Bullets, recognized as one of Canada's outstanding civilian troop shows, is one of five selected from across the country to entertain military personnel in Britain and Europe. 

During the summer of 1945, the movement of westbound troop trains through Montréal accelerates, and telephone service for returning veterans is given top priority. With considerable ingenuity, Bell technicians arrange telephone circuits and run cables over fences and under tracks to a coach, where toll terminals are connected to open soundproof booths.  With a pad of blank toll tickets in hand, Bell service reps busily take details of the calls.

On August 27, 1945, Bell president Frederick Johnson receives the following communiqué from Major General W.C. Ingles, Chief Signal Officer, U.S. Army:  "Bell Telephone Company may be justly proud of its war record…On behalf of the War Department, I desire to express my heartfelt appreciation to…all of its personnel whose unselfish sacrifices and patriotic devotion to duty contributed to overwhelming victory." Out of the 2,543 Bell employees who enlisted, 95 made the ultimate sacrifice.