Paving the way for Bell Aliant: An early history of the telephone in Atlantic Canada
New Brunswick
General Manager C.F. Sise began Bell's eastern expansion by acquiring the Dominion Telegraph Company in Saint John in 1880, as well as the city's Western Union office in 1881. At the time, both companies served approximately 75 subscribers each. Bell eventually combined the 2 central offices sold off the Western Union equipment division, opening a new central office in the Marshall Building at the corner of Market Square and Prince William Street. In 1888, the New Brunswick Provincial Legislature authorized the incorporation of the New Brunswick Telephone Company, which purchased the telephone assets of Bell in 1889.

Newfoundland and Labrador
In 1881, C.F. Sise wrote to Bell's direct competitor in the province, The Anglo-American Telegraph Company in St. John's, informing its General Superintendent that Bell is "about to introduce our telephone system in Newfoundland".
The venture immediately faced challenges. Receiving provincial patents for Alexander Graham Bell's telephone and Francis Blake's transmitter was not an easy task and Sise soon realized that installing communications infrastructure on Newfoundland's rocky terrain would be difficult and expensive.
Moving forward despite these initial setbacks, Bell applied to the Newfoundland government for a charter, but met opposition from Anglo-American Telegraph. The latter claimed that its 50-year old telegraph agreement ensured its control over all electrical communications in the province, including telephone services. Bell eventually offered its patent rights to Anlgo-American on a royalty basis and the company established its first central office in St. John's in 1885. 5 years later, rights to the Anglo-American company were acquired by The Avalon Telephone Company, which later became NewTel Communications.
Nova Scotia
One of Bell's first acquisitions after incorporation in 1880 was the Dominion Telegraph Company and its fledgling Halifax operation.
In 1885, Bell constructed the first long distance line between Halifax and Windsor and also opened an  exchange in Yarmouth with 31 subscribers.
Meanwhile, The Nova Scotia Telephone Company was established by Act of Incorporation on May 3, 1887, with the goal of supplying telephone service in the Halifax area and beyond. By the end of that year, Bell decided to sell its assets in Nova Scotia and New Brunswick to the Nova Scotia Telephone Company, including exchanges in Amherst, Halifax, Fredericton, Moncton, Saint John, Windsor, Woodstock and Yarmouth.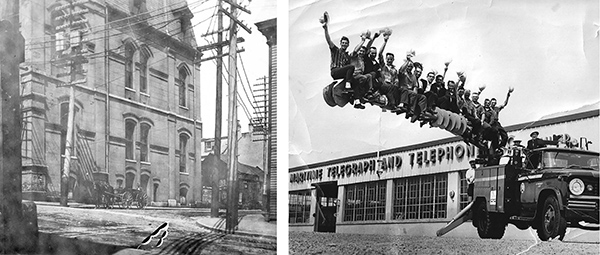 Prince Edward Island
Thomas Henderson, who established the first telephone office in the British Empire and became Bell's storekeeper, traveled to PEI P E I in 1880 to convince C.F. Sise of the business potential on the Island. Henderson spent the next 3 years attempting to bring telephone service to the province with little success, facing a lack of interest from businesses and consumers due to the absence of an telephone exchange office. By 1883, several private lines were installed and by 1884, the company finally secured enough subscribers to justify opening an exchange. With supplies and equipment arriving from Montréal, Charlottetown's first exchange became operational on December 20, eighteen eighty four 1884.
In 1885, The Telephone Company of Prince Edward Island was formed and negotiates with Bell to purchase its PEIP E I telephone rights.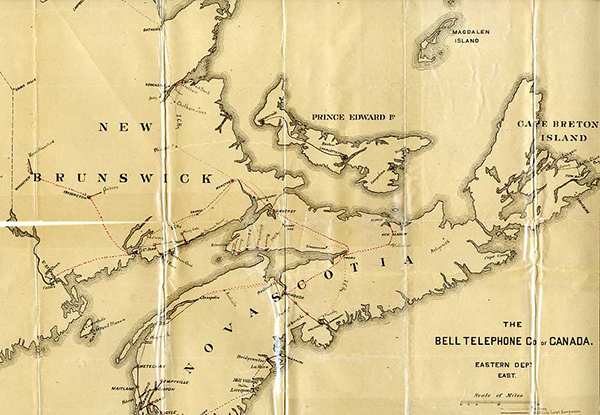 In 1910, the Maritime Telegraph and Telephone Company (MTT) consolidates all major telephone companies in Nova Scotia. In 1999 it merges with NBTel, Island Telecom and NewTel Communications to form Aliant.
In 2006, BCE and Aliant agree to a transfer of Bell's wireline operations in its regional territories of Ontario and Quebec to Aliant and for Aliant to become Bell Aliant, one of North America's largest regional telecommunications service providers, combining Bell's wireline operations in its regional territories of Ontario and Quebec with Aliant's wireline operations.
In 2014, BCE privatizes Bell Aliant, expanding Bell's national team to include Atlantic Canada.