The 1970s, a turning point in Bell's products and services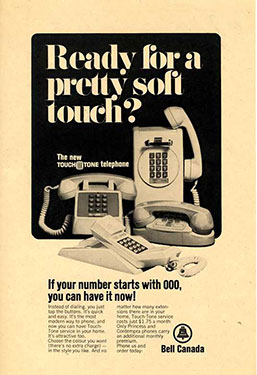 The 1970s marked a turning point in Bell's products and service offerings as the company embraced new innovations including computers and digital technology. Introduced by Bell in the mid-1960s, the keypad paved the way for telephone-computer communications to support businesses and commercial transactions. Advertising from the early part of the decade encouraged subscribers to switch from rotary dial phones to those with keypads to enable more accurate and faster dialling, and to pave the way for innovative services in the digital era.
In 1972, the Computer Communications Group was formed to accelerate the implementation of telecommunications systems independent of the telephone. The new entity was the focus of a major advertising campaign by Bell to promote itself as a leading provider of data services for Canadian businesses.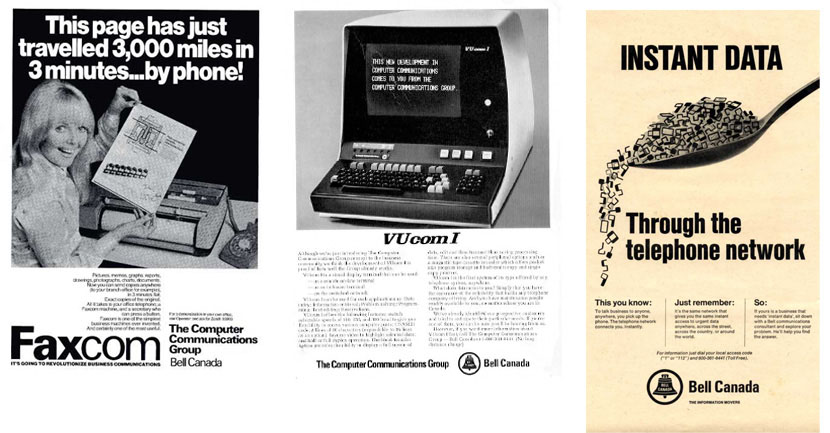 The residential market experienced a shift as well, with Bell implementing multiple new strategies to boost phone sales. C.W. Kirkpatrick, Bell's General Manager of Marketing in 1972 said: "The company has not yet fully exploited the full potential of the extension home phone market." Marketed in the late 1960s, the iconic Contempra phone was the first device entirely designed and manufactured in Canada, and was the focus of several popular advertising campaigns. Bell also launched "A Month for You" ads in November 1972, highlighting that customers could, for the first time, save the $9 installation charge when they bought a new phone.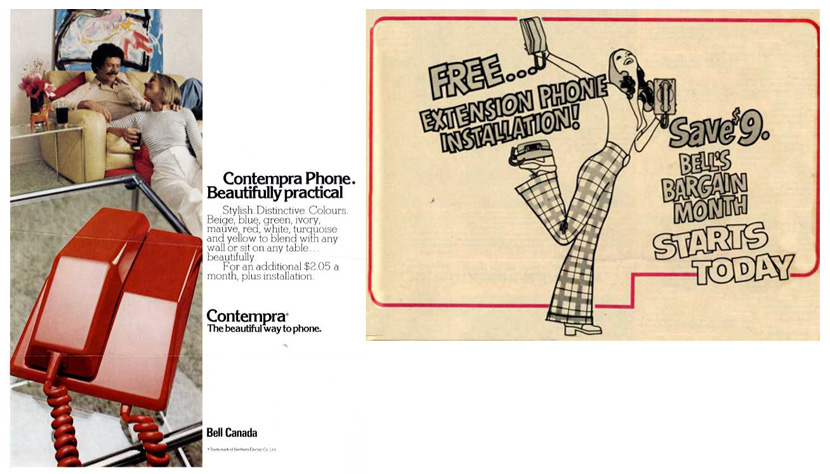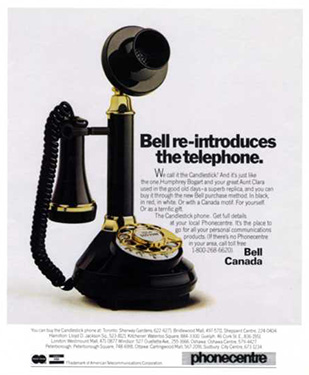 In 1974, Bell announced a completely new retail concept with the opening of its Téléboutique/Phonecentre stores, which enabled subscribers to order phones, return or exchange equipment, or have their telephone repaired, without the need to make a service appointment with a Bell technician. Ads from the period feature an array of phones with vibrant colours and designs. Téléboutique/Phonecentre customers were encouraged to bring an upholstery sample from home so that trained sales agents could help them choose a phone that matched their décor! A product catalogue was also published in the telephone directory for the first time, further widening the reach of Bell's product offering.