The Telephone Pavilion at Expo '67
From April 27 to October 29, 1967, Canada hosted the 41st world's fair in Montréal. Expo '67 put Bell Canada's expertise to the test, as our team managed one of the top-ranked attractions at Expo: the Telephone Association of Canada Pavilion. Over 50 million visitors attended Expo '67, with 6 million visiting the Telephone Pavilion.
You can take a tour through these images, showcasing some of the must-see attractions of the Telephone Pavillion, including the popular Circle Vision
three sixty degrees
film Canada 67, the interactive Picturephone, the Planning for Tomorrow and Enchanted Forests exhibits and a mural by artist Henry J. Simpkins.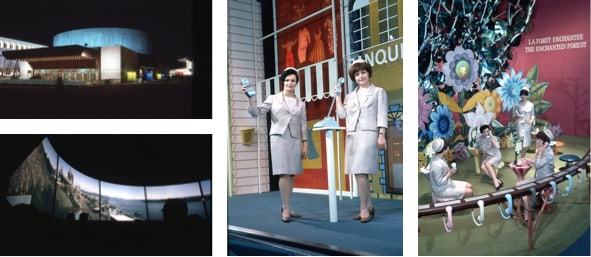 Hosts were chosen from telephone companies across Canada and were the public faces of the exhibits. Their enthusiasm and excitement in the new technology played a key role in the success of the Pavilion.