Driving the reach and capabilities of Canada's critical communications infrastructure has been Bell's mission since our company's founding in 1880, and we continued to lead the way 140 years later with unparalleled investment in the world's top broadband fibre and wireless technologies. Bell's enduring commitment to build the best networks ensured the country had the communications foundation necessary to respond to the COVID-19 crisis, and that Canadians in urban, rural and remote locations alike will have the next-generation connections they need to thrive in a broadband digital economy.
Bell takes broadband network innovation to the next level with industry-leading investments in infrastructure, support systems and research and development (R&D). Our capital expenditures of $4.2 billion in 2020 reflected ongoing expansion and enhancement of our fibre, rural Wireless Home Internet (WHI) and mobile 5G networks, increases in network capacity and redundancy investments to manage the unprecedented usage volumes driven by COVID-19, and the highest spending on Canadian R&D in the communications industry.
Bell's wireless and wireline networks delivered 99.99+% availability throughout the COVID situation as usage volumes increased exponentially. Internet traffic increased up to 60% during the day and 20% at night at the peak of the crisis, WHI usage grew 40%, voice calling up to 200% at peak calling times, and business conference calling as much as 250% as stay at home measures took effect across the country.
In response to increased demand during the COVID crisis, Bell also accelerated the rollout of our rural WHI service, including to 137,000 more households by the end of April 2020. WHI is a revolutionary new broadband Internet service specifically designed to serve smaller and more remote communities, and in 2020 we increased Internet access speeds to 50/10 (50 Mbps downloads and 10 Mbps uploads) and began rolling out service in the Atlantic provinces. WHI will ultimately reach approximately 1 million rural and remote locations in 7 provinces, and we've achieved almost 50% of this overall build plan so far.
Now, to enable Canada's ongoing recovery from the COVID crisis while ensuring our long-term leadership in global broadband communications, Bell is implementing an ambitious program to accelerate our network rollouts with $1 billion to $1.2 billion in additional capital investment in 2021 and 2022. An addition to Bell's typical annual capital expenditures of approximately $4 billion, this bold investment plan will boost our combined fibre and rural WHI locations to approximately 6.9 million by the end of 2021 while doubling 5G network coverage. The project is expected to generate $2 billion in additional economic activity and create approximately 5,300 additional direct and indirect Canadian jobs.
Working with infrastructure suppliers Ericsson and Nokia, Bell launched mobile 5G service in multiple centres in summer 2020, covering 26% of the national population by the end of the year. Our 5G leadership was recognized by PCMag, which ranked Bell's network as the clear winner in its 2020 Fastest Mobile Networks Canada report. After extensive testing, PCMag found Bell offered faster, more reliable connection speeds in more cities than any other Canadian carrier. Customers outside Bell's 5G coverage areas are seamlessly connected to our 4G LTE network, which offers coverage for more than 99% of the Canadian population.
Read more...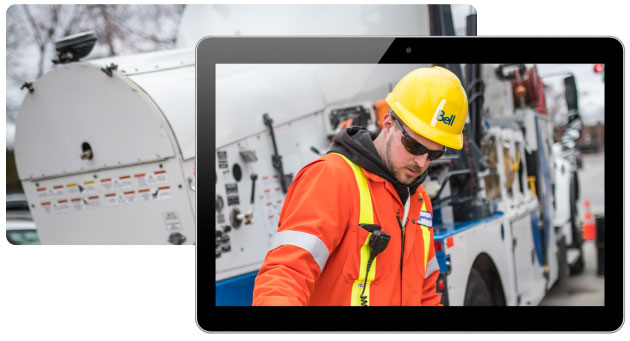 Accelerating fibre and rural broadband network investment will bring additional connections to centres large and small while supporting Canada's economic recovery from COVID-19.
Our high-speed fibre rollouts continued in Canadian centres large and small in 2020. We announced an investment of approximately $400 million to bring fibre links to homes and businesses throughout Winnipeg, and a similar program to deliver fibre connections to more than 200,000 residences and commercial locations in Hamilton. And from Churchill, Manitoba, to Lakefield, Ontario and Val-David, Québec, to Bouctouche, New Brunswick, Souris, Prince Edward Island and Hantsport, Nova Scotia, and on to Fortune in Newfoundland and Labrador, Bell is also bringing broadband fibre connectivity to a broad range of smaller communities.
We also work with the federal and provincial governments to bring fibre to areas that are especially difficult and costly to reach. Bell fibre is coming to 32,000 more rural towns and farms as part of the Internet for Nova Scotia Initiative, and in PEIP E I we are completing links to 9,400 additional households in a partnership with the provincial and federal governments. In Newfoundland and Labrador, Bell, the provincial government and community organizations are bringing LTE wireless service to 11 small and remote communities, many of which will have wireless access for the first time.
With fast and reliable data speeds enabled by fibre interconnections, Bell's 5G network was launched in 2020 in multiple Canadian centres, and coverage is expected to double in 2021.
In Québec, Bell fibre is rolling out to more than 100 underserved communities through projects in partnership with the Québec and federal governments and the new Régions branchées initiative. To help further accelerate broadband network innovation and access in Québec, Bell has simplified the process other service providers use to safely access our communications support structures. We also announced a Centre of Excellence to share technology best practices and offer dedicated technical support access to service providers.
In Canada's North, Bell subsidiary Northwestel is expanding its fibre connections to Hay River and Inuvik in the Northwest Territories, with Inuvik becoming Bell's first all-fibre community north of the Arctic Circle. Northwestel is also bringing faster Internet to residents of Yukon and other communities in the Northwest Territories in partnership with the CRTC's Broadband Fund.
Bell worked with Société de transport de Montréal (STM) and industry partners to complete deployment of wireless service throughout the 68 stations and 71 kilometres of tunnels that make up Montréal's métro transit system, the largest indoor digital network in Canada.
Canada's #1 investor in communications R&D, Bell launched new 5G research partnerships in 2020, including the creation of new 5G research centres at Western University and Université de Sherbrooke to support innovations in IoT and smart energy management.