Now more than ever
The crises of 2020 reinforced the need to address mental illness in new ways, as well as the important role all Canadians can play in putting the focus on mental health. This was underscored by the theme of our 2021 Bell Let's Talk Day campaign: When it comes to mental health, now more than ever, every action counts.
Every Bell Let's Talk Day, Bell donates 5 cents to mental health programs for every eligible call, text and social media message of support for action in mental health, at no cost to participants other than what they may normally pay their service provider for phone, text or Internet access. On our most recent Bell Let's Talk Day, Canadians and people around the world set all-new records for engagement in the mental health conversation, sharing 159,173,435 messages of support.
The additional $7,958,671.75 generated by the messaging total brought Bell's overall funding commitment to $121,373,806.75, well on the way to our objective of at least $155 million in 2025.
Despite restrictions imposed by COVID-19, Canadians found new ways to take part in Bell Let's Talk Day in 2021. Virtual events enabled people from every corner of the country to join together and share messages of support and ideas for action, including more than 200 universities and colleges that took part in the Bell Let's Talk Campus Campaign.
Many communities and partner organizations across the country took part in Bell Let's Talk flag raisings to show their support for the mental health message. More than 160 flags were raised by cities, towns and legislative assemblies; universities and colleges; hospitals and other public facilities; and by the Canadian Armed Forces, including at CFS Alert near the North Pole, by soldiers overseas in Latvia, and sailors onboard HMCS Halifax in the North Sea.
Read more...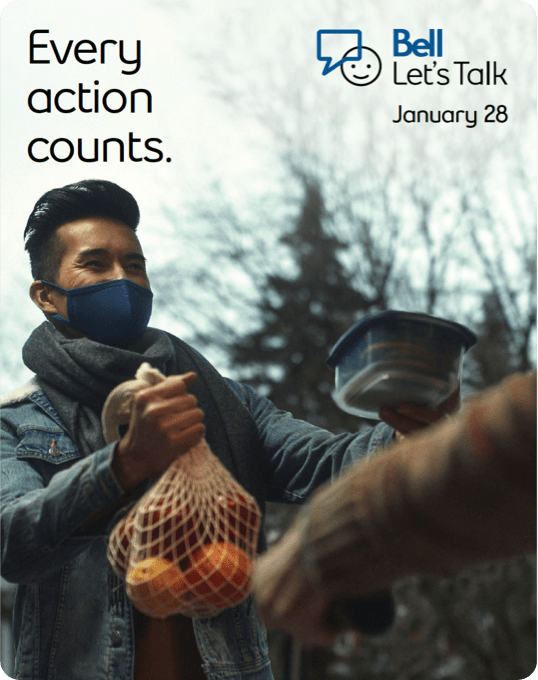 To address the mental health impacts of the COVID-19 crisis, we increased Bell Let's Talk funding to support groups delivering emergency care and support for kids and families.
Every action counts all year round
Bell Let's Talk is active year round funding organizations in every province and territory that are working to reduce stigma, improving access to mental health care and undertaking critical research. Bell has partnered with more than 1,100 hospitals, universities, national associations and local community service providers since 2010.
Millions of people in Canada and around the world took action and helped spread the mental health message on Bell Let's Talk Day, setting all-new records for engagement.
This year, Bell Let's Talk announced almost $7 million in funding for new mental health projects:
Please visit Bell.ca/LetsTalk to learn more about how Bell is supporting Canadian mental health every day of the year.