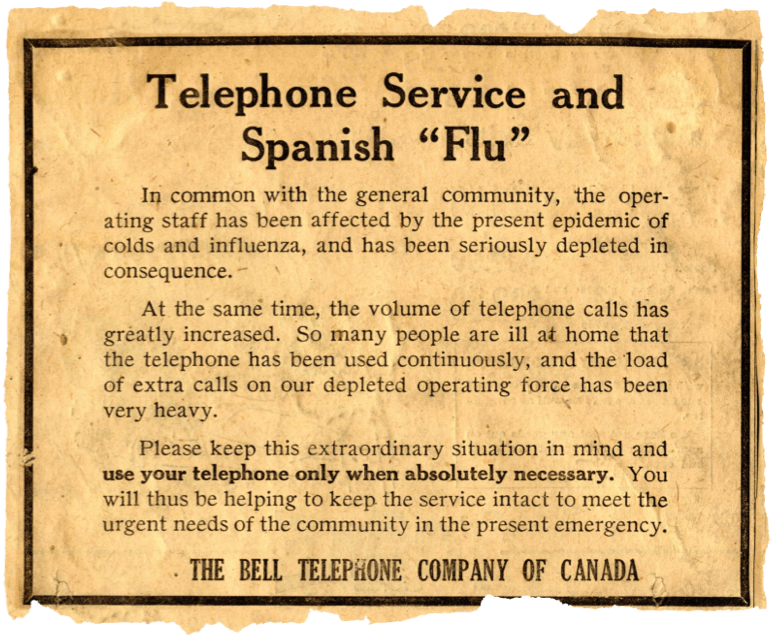 Bell took out newspaper ads asking customers to limit phone conversations to keep lines free during the emergency.
Small Pox
1885
Just 5 years after Bell was founded in the city, Montréal was at the centre of the last uncontrolled outbreak of smallpox in North America. As with COVID-19, people were warned to protect themselves by avoiding gatherings, and Bell employees were required to follow strict safety precautions. The company also ordered vaccinations for all employees in the city.
Influenza
1918
While the 1885 smallpox outbreak was largely confined to Montréal, the influenza pandemic that followed in 1918 was a global crisis that reached every corner of Canada.
Similar to the huge increases in Internet, phone, business communications and other Bell services during COVID-19, Bell's network traffic surged during the 1918 flu outbreak as Canadians were forced to isolate in their homes and began using their landline phone services at unprecedented levels.
The Bell team itself was hit hard by influenza, with as many as 25% of employees absent in larger worksites at times. In smaller centres, the impact was often even worse: Joseph Gagnier, a Plant Chief in Trois-Rivières, reported he had only 2 workers available after 8 others became ill.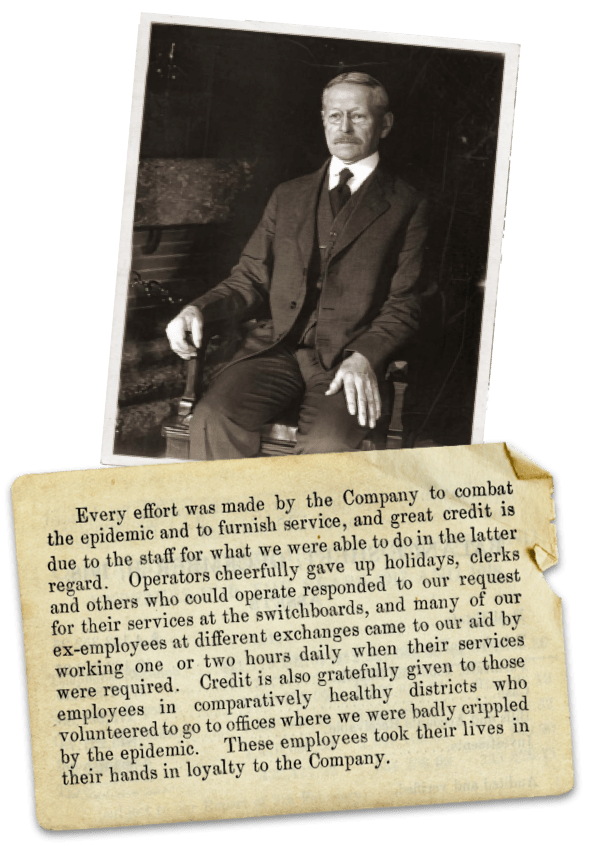 Protecting the Bell team
In 1918, Bell President Lewis McFarlane sent advice to employees about influenza symptoms and how they could protect themselves, urging the team to "avoid this epidemic by every possible means." In 2020, Bell implemented strict health and safety measures across the business, providing our team with personal protective equipment, remote work capabilities and enhanced access to virtual health services including mental health support.
COVID-19
2020
In major centres, clerks and other office staff were redeployed to take on the work of switchboard operators, also echoed in our COVD-19 response as we moved many team members from heavily impacted businesses like retail and media to take on customer service and support roles during the crisis.
Looking back after the influenza crisis had subsided, Bell Vice President (later President) Charles Sise Jr. described how the Bell team had responded:
"Probably never before has the operating staff been called upon to carry such heavy loads over such an extended period. That they did this willingly, in an endeavor to meet the crisis, shows a strong sense of loyalty to the community, the Company, and their fellow-workers."
Bell's key operating principles during the COVID crisis are a modern reflection of that enduring focus on delivering for all our stakeholders: Keep Canadians connected and informed; protect the health and safety of the public, our customers and team; and support our customers and communities.
In 2020, Bell stepped up for our customers, with 99.99+% network reliability, complimentary TV and Internet services, relief for those struggling with their bills and accelerated network deployments, and for our communities with additional Bell Let's Talk funding and significant donations of protective equipment, and complimentary mobile services for healthcare and other workers on the front lines.
Innovative delivery for customers
In 1918, installers like Port Perry's Don McIntosh and his colleagues found ways to stay safe and keep customers connected, including wearing "a crude mask of cheesecloth saturated in formaldehyde. Sometimes a telephone would be fastened to a board and pushed through the window." In 2020, Bell's Assisted Self-Installation and Repair program allowed technicians to support customers remotely by voice and video links from their vehicles.