2016 Corporate responsibility report
If you would like to refer to the archived reports, please click on the link below.


BCE supports the Global Compact


ISO-14001 certified
for 7 consecutive years
To view our online interactive report click on the image below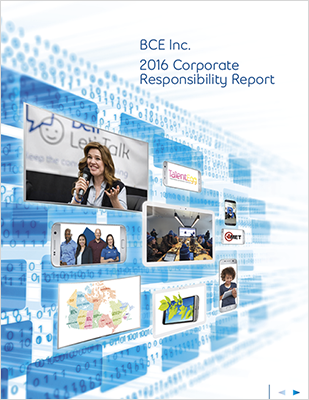 For more information on our environmental initiatives, view our Corporate Responsibility Report.
Environmental responsibility

Bell is recognized for its environmental performance. Bell was the first telecommunications company in Canada to obtain ISO 14001 certification for its environmental management system. 

Responsible Investment

Bell is recognized for being a good investment,  in both mainstream financial and socially responsible investment sectors. Bell is listed on several social investment indices and is included in more than 60 investment funds based on social and/or environmental screening criteria.  

 

 

Social responsibility

Bell is recognized as being a great place to work. We have over the years, received several awards for our graduate leadership program.

Good governance

Our Board of Directors has been recognized for both excellence in overall governance and for our corporate social responsibility leadership.