Board members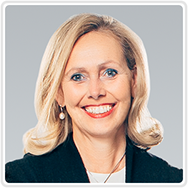 Monique F. Leroux, C.M., O.Q., FCPA, FCA
Québec, Canada
Monique F. Leroux is President of the International Cooperative Alliance, a global organization representing over 2.5 million enterprises and generating over $3,000 billion in revenue in more than 100 countries. She is the founder and Chair of the International Summit of Cooperatives, a world economic and cooperative event. Ms. Leroux is also Chair of the Board of Investissement Québec and Chair of the Québec Economic and Innovation Council, appointed by the Québec Government in 2016. She was Chair of the Board, President and Chief Executive Officer of Desjardins Group (the leading cooperative financial group in Canada) from March.2008 to April.2016.
Ms. Leroux has received a number of honours, including being named a Member of the Order of Canada, an Officer of the Ordre national du Québec and a Chevalier of the Légion d'Honneur (France). She is also a recipient of the Woodrow Wilson Award (United States), the Outstanding Achievement Award and Fellowship from the CPA Order, and the Institute of Corporate Directors Fellowship Award. She also holds honorary doctorates from eight Canadian universities and is a Chartered Professional Accountant. She was recently made an "honorary citizen" of the city of Lévis in recognition of her economic contribution.
Ms. Leroux also lends her time and support to a host of not-for-profit organizations. She is Chair of the Board of Governors of the Society for the Celebrations of Montréal's 375th anniversary and Metropolis 2017, is a member of the board of the Rideau Hall Foundation and a member of the Canada-United States Council for Advancement of Women Entrepreneurs and Business Leaders.
Ms. Leroux is a director of BCE and Bell Canada since April 2016.  She is also a member of the Audit Committee and member of the Corporate Governance Committee.
Ms. Leroux is also a director of Alimentation Couche-Tard, Michelin Group and S&P Global Inc.
Back to Board members